Welcome to City of Preston Aquatics
City of Preston Aquatics is a Synchronised Swimming club based in Preston, North West England. We are a competitive club with success at all levels of competition. We welcome swimmers of all ages and experience to join us. For more information please explore this web site via the menus above.
Training Times
Training times are currently as follows. These are a mixture of remote land training sessions via Zoom and in-pool training sessions.
Monday: 6.00 - 8.00pm Strength and Conditioning (Zoom)
Tuesday: 7.00 - 8.00pm (gym) / 8.15 - 9.15pm (pool) Hutton
Wednesday: 6.00 - 7.00pm (Zoom)
Friday: 8.00 - 10.00pm Leyland
Saturday: 9.00 - 10.00am (Zoom) / 3.00 - 5.00pm (6pm for national swimmers) Fulwood
Sunday: 7.15 - 9.15pm Leyland ELITE SQUAD ONLY
Club members please

log in

to see additional items in this news feed
New members click
here
to create your account. Account registrations are subject to approval.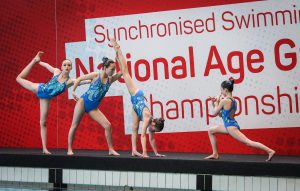 CoPA's synchro swimmers competed at the National Age Groups Championships in Manchester at the weekend with some incredible results:
12 & under figures – Chloe: 18th
13-15 figures – Natasha: 7th, Lola: 33rd, Marisa: 34th and Rachel: 112th
13-15 solo – Natasha: 5th
12 & under solo – Chloe: 10th
Free team routine – CoPA team (Lola, Marisa, Natasha and Rachel): 8th
There were 67 competitors in the 12 & under age group and 179 competitors in the 13-15 age group.  Dependent upon their figures scores, only the top 12 swimmers qualified to swim solo.  There were a total of 18 clubs swimming in the team event.  We are naturally very proud of our swimmers!