Welcome to City of Preston Aquatics
City of Preston Aquatics is a Synchronised Swimming and Water Polo club based in Preston, North West England. We are a competitive club with success at all levels of competition. We welcome swimmers of all ages and experience to join us in either our Synchronised Swimming or Water Polo disciplines. For more information please explore this web site via the menus above.


Training Times

Synchronised swimming
training times and locations are as follows:
Water polo
training times and locations are as follows:
Club members please

log in

to see additional items in this news feed
New members click
here
to create your account. Account registrations are subject to approval.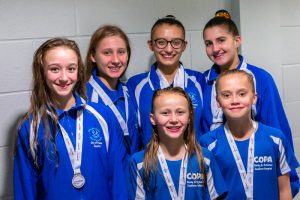 It was a tremendous day for CoPA yesterday as their synchronised swimmers won top medals at the Swim England North West Regional Championships at Irlam on Sunday.  CoPA entered swimmers for the figures, solo and duet events and every swimmer won a medal for one or other of these categories.
Photos and videos can be found here for logged in CoPA members.
Team CoPA were also heavily represented in the organisation and running of the event with Deborah responsible for managing the event on behalf of Swim England NW, Pam and Fiona in attendance as coaches, Camilla and Sarah judging, Alison as Clerk of Course, and Colin manning the door.
Congratulations and thanks to our friends from City of Salford, Stockport Metro, Trafford Synchro and Warriors of Warrington on their own results and for taking part and making the event a great success.
CoPA results were as follows:
12 & Under Figures (17 swimmers):
13-15 Figures (27 swimmers):
15-18 Figures (14 swimmers):
Rhea: 1st (Gold)
Leah: 7th
12 & Under Solo
15-18 Solo
Rhea: 1st (Gold)
Leah: 3rd (Bronze)
12 & Under Duet
Chloe & Lola: 2nd (Silver)
13-15 Duet
Evie & Natasha: 2nd (Silver)
15-18 Duet
Rhea & Leah: 2nd (Silver)
Full results can be found here.