Welcome to City of Preston Aquatics
City of Preston Aquatics is a Synchronised Swimming and Water Polo club based in Preston, North West England. We are a competitive club with success at all levels of competition. We welcome swimmers of all ages and experience to join us in either our Synchronised Swimming or Water Polo disciplines. For more information please explore this web site via the menus above.


Training Times

Usual training times have been replaced with temporary Covid-19 land training times via Zoom as follows. These are subject to change as the situation develops:
Monday: 6.00-8.00pm Strength and Conditioning
Wednesday: 6.00-8.00pm Flex, Stretch and Core
Friday: 5.00-6.30pm Friday mix!
Saturday: 10.00-12.00pm Strength and Conditioning
Sunday: 10.00-12.00pm Flex, Stretch and Core
Club members please

log in

to see additional items in this news feed
New members click
here
to create your account. Account registrations are subject to approval.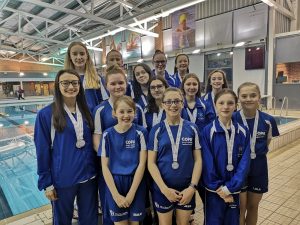 Incredible results for our CoPA synchro girls today as they took part in the 2020 Swim England NW Regional Age Groupsand Championships at Palatine Pool, Blackpool!
CoPA 13-15 Combination Team: (Abby, Katie, Jess, Lola, Maddie, Marisa, Natasha, Nema & Rachel) – Silver
15+ Technical Duet: Rhea, Leah & Evie (reserve) – Gold
15+ Technical Solo: Rhea – Gold, Leah – 5th
15+ Free Duet: Rhea, Leah & Evie (reserve) – Gold
15+ Free Solo: Rhea – Gold, Leah – 4th, Evie – 6th
13-15 Free Duet: Natasha & Marisa – Gold
13 – 15 Free Solo: Natasha – Bronze, Marisa – 5th
13 – 15 Figures: Natasha – Bronze, Marisa – 4th, Lola – 8th, Rachel – 17th, Abby – 19th
12U Free Solo: Chloe – Silver
12U Figures: Chloe – Gold, Emilia – 15th
Great work girls!
Photos and videos to follow for logged in CoPA members.