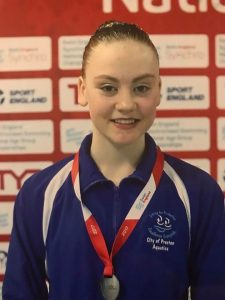 It was a fabulous weekend for CoPA at the synchro National Age Groups Championships in Gloucester.  At this top level national competition Daisy took the podium for two silver medals!  Credible results were also achieved by Rhea, Leah and the 12 & under "Little Monsters".   Full CoPA results below.
13 – 15 Age Group (175 competitors)
Daisy placed second in figures and second in solo for two silver medals.
Evie placed 126th in figures
15 – 18 Age Group (83 competitors)
Rhea placed 14th in figures, 10th in solo and 8th in duet (with Leah)
Leah placed 43rd in figures and 8th in duet (with Rhea)
12 & Under Age Group (129 competitors)
Team: The 'Little Monsters' finished 10th (of 17 teams)
Figures: Natasha finished 21st, Lola 76th, Sofia 83rd, Elizabeth 98th, Rachel 104th, Immy 111th, Nema 114th, Chloe 122nd and Abby 126th.
Well done girls – on with the 2018 routines now!