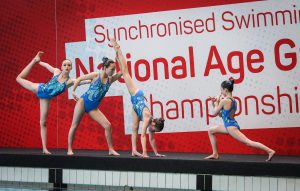 CoPA's synchro swimmers competed at the National Age Groups Championships in Manchester at the weekend with some incredible results:
12 & under figures – Chloe: 18th
13-15 figures – Natasha: 7th, Lola: 33rd, Marisa: 34th and Rachel: 112th
13-15 solo – Natasha: 5th
12 & under solo – Chloe: 10th
Free team routine – CoPA team (Lola, Marisa, Natasha and Rachel): 8th
There were 67 competitors in the 12 & under age group and 179 competitors in the 13-15 age group.  Dependent upon their figures scores, only the top 12 swimmers qualified to swim solo.  There were a total of 18 clubs swimming in the team event.  We are naturally very proud of our swimmers!