Date/Time
Date(s) - 01/07/2017
8:30 am - 8:30 pm

Location
Walsall Gala Swimming & Fitness Centre
Categories
Registration
15/18, Champs figures – 8.30am
13/15 figures – 9.15am
12/u figures – 10.00am
Combo teams – 12pm
 Timetable
Due to a high number of entries there will be no warm up or parades.
Swimmers will exit after routines via middle steps by the changing room.
Downloadable Figure Splits Document
9.15am -10.05am – 15/18, Champs figures (start order here)
10.25am – 11.40am – 13/15 figures (start order here)
11.55am – 12.55pm 12/u figures (start order here)
1.15pm – 3.30pm – Combos (start order here)
Figure and Combo medal ceremony
3.50pm- 4.50pm – Solos (start order here)
Solo medal Ceremony
5.10pm – 6.10pm – Duets (start order here)
Duet medal Ceremony
6.30pm – 7.25pm Free team (start order here)
Team Medal Ceremony
Car parks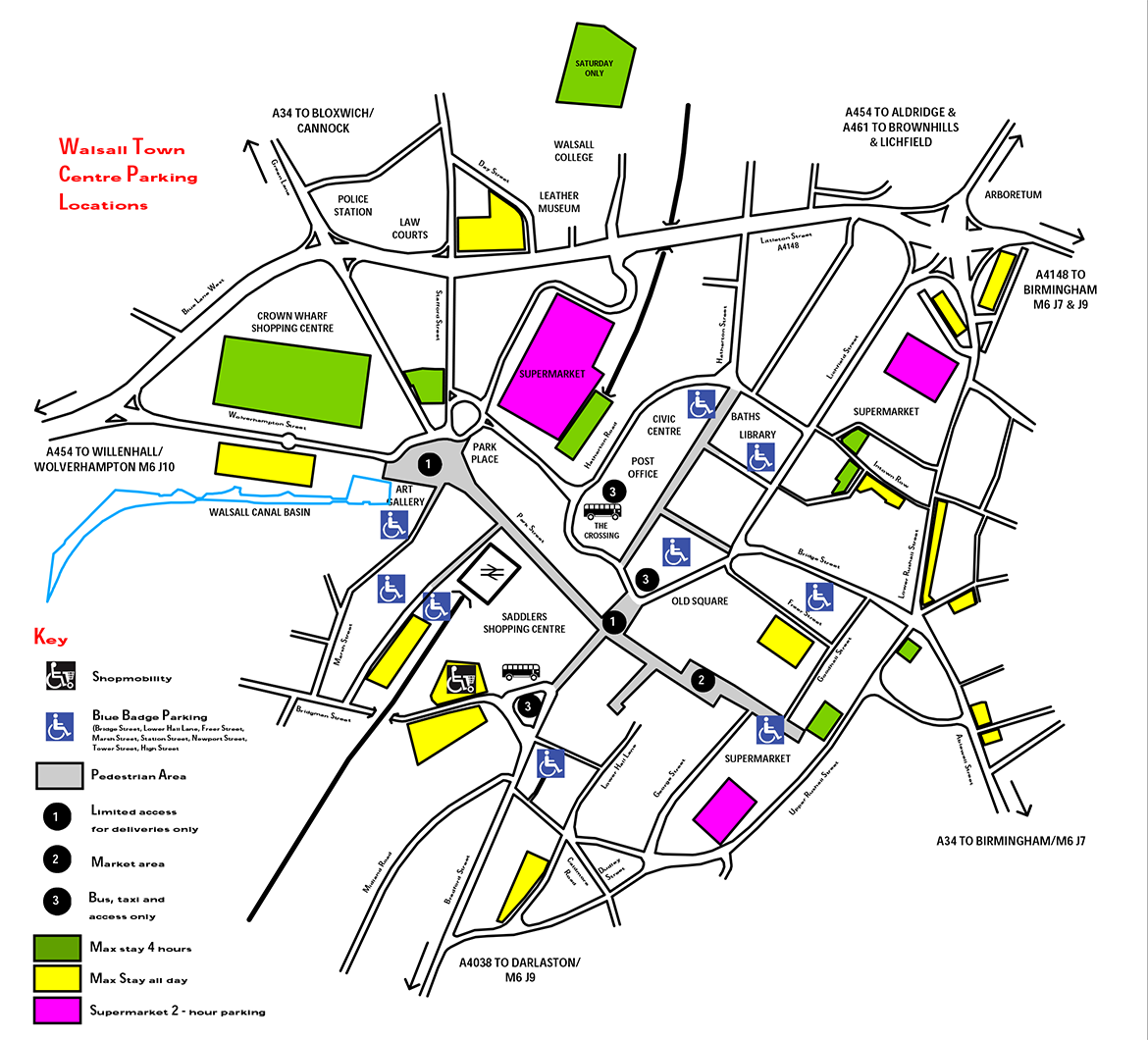 The diagram shows the car parks in Walsall with the yellow ones being the long stay car parks.  The nearest long stay car park is on Intown Row (on the hill) accessible from lower Rushall Street.  However it gets full very quickly with only a small number of spaces. This costs £3.10 all day.  Cash or pay by phone.
The other alternatives are NCP multi storey in Freer Street (WS1 1QF) which is cheaper – £2 all day, payable before exit.  To access this car park you have to drive down Lichfield Street past the road to the Gala and head up the hill with the Old Square Shopping Centre on your right. The opening times are 6.30am- 8pm.  If the competition runs over people may need to move to avoid being locked in, but all the car parks are free after 6.30 so they could be moved at that point. //www.ncp.co.uk/find-a-car-park/car-parks/walsall-freer-street/
Officials' Job Allocations
Please see this spread sheet for details of jobs allocated to officials.
General information
Entry fee will be £3.00, and £2.00 for concessions.  Children under 12 year are free.  There will be a raffle with tickets available at the door (raffle prizes will be gratefully received).  There will also be a sale of synchro costumes, bags, flip flops, towels and hats.  A donation will be made to Warwickshire ASA which will benefit all the swimmers.  Cash sales please (for new orders cheques will be OK).
Costumes start from £25 / Flip flops £10
Bookings
Club members/swimmers please log in to confirm your availability for this event.